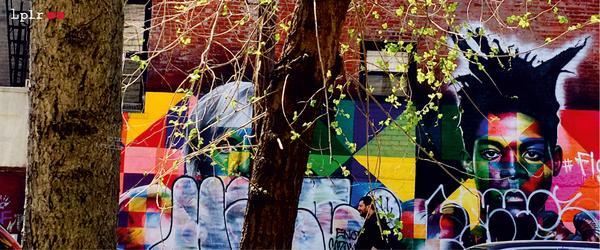 Our heroes and influences
Boldness, to us, is the most unique and inspiring trait and quality of all.
Raymond Loewy, during his time, had plenty! All his work and creativity were extremely modern. For instance, his Lucky Strike packaging, which he created in 1940,
is still on the market, even though it seemed so bold and extravagant back then.
We also have a very soft spot for Marcel Duchamp and his non conformist designs.
Daring to put a moustache on the famous Joconde, along with its extremely provocative title LHOOQ, simply was pure genius.
We both love to break the rules and traditions, and that gives us a lot of room to play!
Hilarhi always tells Alison that rules are made to be broken, and we play a lot with this.
Famous Architect Zaha Hadid is also a favorite: she breaks and changes all traditional rules and styles, and all the buildings she designed are true pieces of contemporary art.
There is also the energy of Jean Michel Basquiat !
Therefore, we can really say that we are curious to discover,
and that we find sources of inspiration everywhere.
We also love to revisit different styles and add our personal touch, our unique twist on them.
Nos héros et influences
Hilarhi dit toujours à Alison que les règles sont faites pour être enfreintes et que l'audace doit être un moteur.
Les artistes ci-dessous les inspirent et les rendent créatifs.
Marcel Duchamp et ses dessins anticonformistes. Oser affubler la Joconde d'une moustache et intituler son tableau du provocant LHOOQ, tenait tout simplement du pur génie.
Raymond Loewy, à son époque, avait aussi beaucoup d'audace ! Tout son travail et sa créativité étaient extrêmement modernes. Par exemple, son emballage Lucky Strike, qu'il a créé en 1940, est toujours sur le marché, même s'il semblait si audacieux et extravagant à l'époque.
La célèbre architecte Zaha Hadid est également une favorite : elle enfreint et modifie toutes les règles et tous les styles traditionnels, et tous les bâtiments qu'elle a conçus sont de véritables œuvres d'art contemporain.
Que dire de l'énergie de Jean Michel Basquiat !…
Ils aiment ces personnages et chacune de leur création veut leur rend hommage. Tout comme ils cachent leur identité derrière un anagramme, vous pourez jouer à trouver la personne qui se cache derrière les anagrammes de Muchpad, Woely, Didah ou Quatibas…